Zootechnical feed additives are growing in popularity thanks to their benefits for animals, animal owners, and feed additive developers alike. But bringing such products to market in Europe demands that companies deftly navigate complex and changing regulations. Here, we discuss how developers can best overcome regulatory challenges for a streamlined path to market, and faster return on investment.
By Pen & Tec Consulting, part of the Argenta Group
The European Food Safety Authority (EFSA) defines zootechnical feed additives as a category of additives that favorably affect either animal performance or the environment. Their functions are hugely varied, ranging from improving the digestibility of animal feed, to increasing animal resilience to stress (Table 1).
Interest in zootechnical feed additives is now growing at pace, which is no surprise given the significant benefits that they offer. For both production and companion animal owners, zootechnical additives offer ways to maintain animals in good health where there is currently no alternative, opening entirely new avenues to drive better animal welfare. Moreover, zootechnical additives can greatly improve animal performance, enabling production animal owners to maintain or improve output with the same amount of, or in some cases less, feed (a welcome benefit given the pressures of the EU's Farm to Fork Strategy, which demands farmers produce ever more with less).
And that's not all. Zootechnical additives offer advantages for additive developers, too, beyond the profits promised by large market demand. For example, certain studies used for the approval of a product in one species, such as those related to characterization or user/worker safety, can be re-used for extension to another species, meaning one successful product approval can open the door to further product approvals requiring less time and fewer resources. What's more, zootechnical additive authorizations are holder-specific, with the successful applicant receiving exclusive rights to the additive for ten years. Accordingly, companies that invest in bringing an innovative zootechnical feed additive to market can rest assured that their revenues and profits will be better protected.
But while zootechnical additives have clear and numerous benefits, bringing them to market in Europe is no easy feat. Developers must contend with complex regulations that can quickly overwhelm even the most well-prepared companies.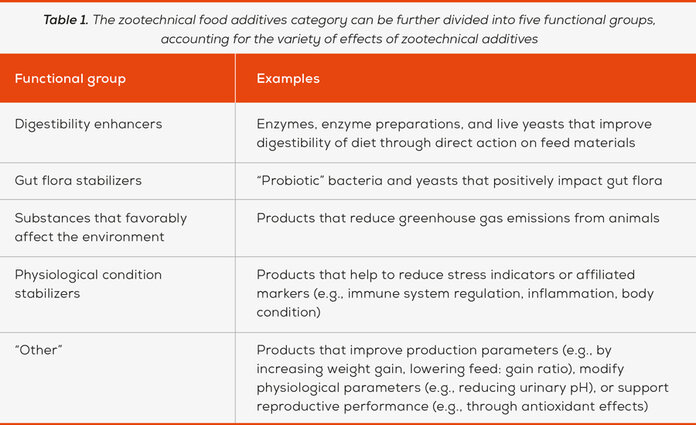 NAVIGATING EUROPE'S ROCKY REGULATORY LANDSCAPE
The Feed Additives Regulation (Regulation (EC) No 1831/2003) is the key overarching regulation that establishes the procedure for feed additive authorization in Europe, with Commission Regulation (EC) 429/2008 providing more detailed rules on how to apply those regulations. Given that such regulations are not entirely prescriptive, EFSA provides a series of documents offering guidance on all aspects of the application — from the design of characterization and efficacy studies, through to additional information on how to conduct statistical analyses, build a robust dossier, and correctly submit it.
The application process involves many steps, and typically takes anywhere from 3–4 years (Figure 1). To navigate it successfully, companies must deal with three major challenges: overwhelming complexity, continual regulatory evolution, and subtle, yet critical, geographical differences.

Overwhelming complexity
The first challenge developers will likely face on the path to regulatory success in Europe is the huge number of guidance documents they must contend with. Simply finding feed additive regulations and guidance documents is easy enough (they are freely available online). Identifying the right, up-to-date and applicable documents, however, can be a time-intensive and error-prone process. Indeed, even with a deeply experienced regulatory team, the process can be hugely disorienting, and could lead to costly mistakes that delay market entry.
As noted by Andrew Bell, Regulatory Affairs Manager at Pen & Tec Consulting, part of the Argenta Group, even in this early stage of the regulatory journey, companies can make a wrong turn that can drive costs and drastically reduce chances of application success. "Companies underestimate how easy it can be to design efficacy studies based on outdated guidance documents, only to realize the mistake too late. The time and cost impacts of having to start these studies from scratch are hard to overstate — and painful to think about."
Dynamic regulations
Beyond the wealth of documentation, developers must also contend with the fact that regulations and guidance documents get revised regularly. Staying abreast of these changes, and most importantly, understanding how they might impact your application, is a substantial task.
The 2021 transparency regulation (Regulation (EU) 2019/1381 of the European Parliament and of the Council of 20 June 2019) is a good example of a recent change with far-reaching impacts for feed additive developers. The new regulation introduced several changes into the General Food Law, one of the most important being a need for companies to notify EFSA prior to the commencement of any analytical studies. While this is a welcome change that guarantees all relevant studies are submitted (thereby ensuring the most appropriate decision is made with regards to authorization), failure to notify EFSA can have drastic consequences — namely, a 6-month penalty delay on dossier assessment. Such a significant penalty can draw out the application process and postpone market entry, delaying return on investment.
The new 2021 Transparency Regulation also saw the creation of an EC portal (the E-Submission Food Chain Platform) where applicants can upload dossier information. Such a portal can make submissions more convenient in some respects. However, it also adds a host of GDPR requirements that developers must fulfil for smooth progression of their application. Again, failure to meet these requirements can incur costly delays to application progression.
Other changes are on the horizon, too. For example, the industry is awaiting a substantial refit to Regulation (EC) No 1831/2003 to facilitate compliance with the EU Farm to Fork Strategy and the European Green Deal (currently on hold but expected to come into effect 2025 or thereafter), and updates to guidance on efficacy, user worker safety, microorganisms & Whole Genome Sequencing are on track for adoption by June 2024 — all of which could substantially impact zootechnical additive applications.
Of course, such a continually evolving regulatory landscape can complicate the path to smooth regulatory approval. In the worst case, changes could mean that in-progress studies may not be suitable, requiring additional work or a repeat of the study. As a result, developers could end up wasting significant time and resources and facing delayed market entry.
"There's no doubt that unfortunately timed regulatory refits can cause upheaval for developers looking to bring new zootechnical additives to market," said Andrew. "Developers must be able to swiftly spot signs of impending change, as well as anticipate its impact on their specific product. The problem is that doing so demands extensive regulatory knowledge, and a lot of time."
Geographical differences
Compounding the problems of overwhelming documentation and shifting requirements are global and local geographical regulatory discrepancies.
Feed additive regulations in Europe differ greatly from those in the US. In the US, developers have not just one but several ways to register a feed additive, each with vastly different data requirements. The Food Additive Petition (a dossier placed with the FDA) is the most similar to feed additive applications in the EU, but even here, the details are fundamentally different. As such, zootechnical feed additive producers with US approval wishing to expand into Europe may need to repeat or redesign studies to meet European requirements.
Even within Europe, there are important regulatory differences, most notably between the UK and the rest of Europe. In the UK the Food Standards Agency (FSA) took over much of EFSA's role after Brexit. While the FSA mirrored EFSA initially (owing to retained regulations) it has not evolved in line with EFSA's regulatory changes, and the divergence is expected to continue in future. Additive developers must, therefore, ensure they are aware of these discrepancies if they are to secure and maintain access to markets in both the UK and the rest of Europe.
As Andrew noted, "The regulatory differences between the UK and the rest of Europe can be frustrating for developers looking to market their products in both regions. This is particularly evident in instances where EFSA has removed the need for some studies since Brexit, as companies will still have to conduct them for UK application."
SMOOTHING THE ROUTE TO REGULATORY SUCCESS WITH THE RIGHT EXPERTISE
With so many challenges on the road to European regulatory success, it's no surprise that the chance of error is high. Those errors, even if small, can cause costly setbacks that stymie progress, slow the route to market, and ultimately, delay returns on investment.
However, that's not to say that companies can't take steps to minimize risks. Indeed, perhaps the most important and impactful step that a zootechnical developer can take to maximize chances of regulatory success is to work with highly knowledgeable and experienced consultative partners. Doing so offers a whole host of benefits.
Tailored guidance at every stage of the process
Companies developing zootechnical additives have many excellent sources of regulatory guidance at their disposal (they can talk to trade associations, for example). But advice from such sources will typically be very general, rather than tailored to a company's specific product or situation. A dedicated regulatory consultant with deep experience, on the other hand, will be able to carefully interpret guidance documents in the context of a product, crafting tailored recommendations to help meet a company's specific needs and goals.
Importantly, because guidance from organizations such as trade associations is typically general, companies may still need more tailored consultation. This means that, for some developers, seeking general advice is little more than a poor use of time and resources.
Avoiding common pitfalls, swiftly resolving issues
Suitably knowledgeable consultants will also be able to advise developers on the best ways to avoid common and costly pitfalls throughout the entire regulatory process.
"Consultants have a wealth of tips to help their partners sidestep potential problems," noted Andrew. "This could be something as simple as including sensitive information only on the front page of a dossier, as opposed to on every page footer — the latter increasing the risk of GDPR slip-ups. Most companies won't give small details like this much thought, but the time saved over the entire application process can be an edge that gets you to market faster."
What's more, experienced consultants will be able to help swiftly resolve issues if they do arise. Having become deeply familiar with how regulators work, some consultants have developed a good understanding of how regulators will respond in certain scenarios, meaning they can help developers anticipate and best work through potential roadblocks or answer any complex questions.
Better anticipate, and prepare for, regulatory changes
As highlighted above, continual regulatory change can be a daunting barrier to success. But knowledgeable consultants that are deeply embedded in the industry and have good networks with EFSA and the EC can anticipate regulatory changes and their impact. In cases where changes might mean more studies are required for a company's product, consultants can help them adapt early to minimize costly disruptions. Likewise, in cases where upcoming changes are likely to require fewer studies, consultants can alert companies early enough to potentially avoid unnecessary studies, saving time and costs, and ultimately speeding dossier creation.
HELP MAXIMIZE CHANCES OF A RIGHT-FIRST-TIME SUBMISSION
Overall, by offering tailored guidance, tips to sidestep issues, and comprehensive horizon scanning to anticipate and prepare for regulatory changes, consultants can greatly increase the chances of a developer crafting a right-first-time submission. That means developers can save on unnecessary resource expenditure, get their products to market in the quickest possible time, and start generating revenues earlier.
"Costs can often hold developers back from working with expert regulatory consultants," added Andrew. "But the costs of a service should always be considered in light of the risks of not having that service — in this case, the risks of a drawn out or failed application and delayed market entry."
PROPELLING YOUR PRODUCT TO MARKET FOR A FASTER RETURN ON INVESTMENT
Given the unique benefits of zootechnical feed additives for animals, animal owners, and feed additive companies, it's no surprise that more and more companies are looking to develop them. But bringing zootechnical feed additives to market in Europe is no easy feat, with Europe's complex and ever-changing regulations representing a formidable hurdle for even the most well-prepared developers.
A skilled consultative partner, however, can significantly ease the path to regulatory success. Armed with their knowledge and expertise from the get-go, feed additive companies can better craft an application that maximizes chances of a right-first time submission, unlocking a more cost-effective route to market in Europe, and a faster return on investment.