As a feed producing company the volumes to process, the legislation imposed and the time pressure to get feed to the market are so high you cannot do this without an appropriate tool. The fact that we deliver our software already close to 50 years to the industry is only more proof that the feed industry saw the need to digitize their data and processes.
BESTMIX® Software, formerly known as Adifo, is a company that develops a unique range of software tools specific to the food and feed industry. The software tools in the company's portfolio focus on topics such as the least-cost recipe formulation, quality data management, ration calculation, cloud services and ERP. BESTMIX® Recipe Management, one of the company's most important software, is widely used in the feed industry.
Karel Vervaet, Senior Product Specialist of BESTMIX® Software, which has half a century of experience in its field, explained both the importance of the software in feed production and what the BESTMIX® Recipe Management software provides to users.
Mr. Vervaet, can we say that software simply means collecting data, storing, analyzing and strategizing according to the analysis? If so, why is data important? Can you explain the importance of data in the feed production sector?
No, I think software cannot be labeled like that. For sure software exists out there that fits the description, but if I look at our software, then of course the data is key, but the features you apply on the data, the representation of the input and output, the user experience you give to users when working with the software are equally important as the data itself.
Correct information / data is important in any industry, also in feed production. Some of the data can be collected in an automated way, like for instance animal performance figures on farm. Other data needs to be managed by knowledgeable users, to allow to generate the desired output. A perfect example for this are for instance the requirements that will determine the outcome of a least cost formulation.
Today's world is very changeable. For example, while any feed ingredient may be abundant and cost-effective one day, it may be the opposite another day, or a highly preferred ingredient today may be replaced by a new alternative tomorrow. How do such changes affect the feed industry and can software help keep pace with these changes quickly? How?
The topic raised here is the day-to-day reality for our customers, and the feed industry as whole. The logistical challenge they face is to get the right raw materials sources at the right moment at the right production location. With the help of our software, you can:
• Make sure you have all the available input from ERP available in the formulation system (production forecast, current market prices, future market prices, contracted amounts with their prices etc)
• Run simulations in BESTMIX® Recipe Management that will calculate which amounts to buy, when to buy them, and for which production location, and share this information again with the ERP system so the purchase department can take the appropriate actions
• Anticipate and prevent that big fluctuations in either quality or price have a too big impact on the feed being produced and delivered on farm
Another issue is the change of priorities. Due to the increasing competitive environment, cost-effective production is extremely important. On the other hand, factors such as sustainability and environmental impact are intensely on the agenda today. Can you tell us what the software offers to feed producers at the point of providing all these together?
Sustainability is 'the' talk of the industry at the moment. The pressure to be more sustainable is very high, both from the government, but also from the consumer side. When looking at sustainability you have to consider the entire value chain, so not only producing feed in a more sustainable way, but also consider what happens on farm, in the slaughterhouse, right up to the retail. Furthermore, it is also important to not only look at the carbon footprint, because also in the animal production this only represents a small peace of the total impact.
Another important topic here is objectiveness or certification. You need to be able to guarantee when you calculate the environmental footprint, that there is a way consumers can validate the outcome. Therefore, we partner with experts in the industry. BESTMIX® Recipe Management itself does not have the capability to calculate the environmental footprint, but our partners do, and we display the result during the formulation of a recipe or a feeding program. As a user you then have the opportunity to deep dive into the sustainability figures.
In our latest release we also added optimization on environmental footprint to the software. Since this will impose extra constraints on the price, you have the ability to define what price increase you allow to realize a better environmental footprint.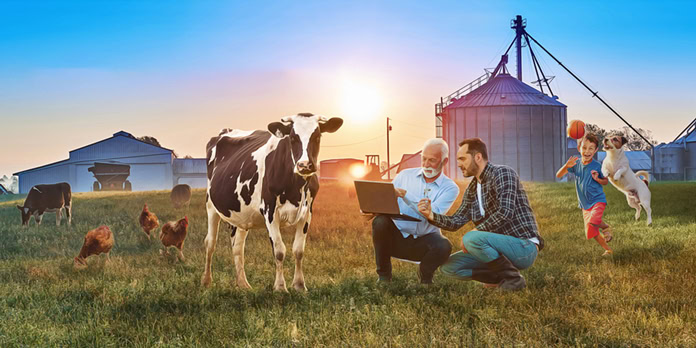 What is the usage rate and prevalence of software and digital technologies in the feed industry? Can you share your general impressions on this subject, especially in the regions you serve?
In the regions we serve, everybody works with software. As a feed producing company the volumes to process, the legislation imposed and the time pressure to get feed to the market are so high you cannot do this without an appropriate tool. The fact that we deliver our software already close to 50 years to the industry is only more proof that the feed industry saw the need to digitize their data and processes.
Let's go back to the software solutions you offer to the feed industry. Can you tell us about your Bestmix software and its features? What does this software offer to feed producers or animal breeders who produce their own feed?
Benefits BESTMIX® Recipe Management has to offer:
• 01 / Cost reduction
BESTMIX® Recipe Management takes into account the impact of the production process on the nutritional and functional properties of your ingredients. By estimating the effect of enzymes and drying, amongst other things, in advance, you can easily and quickly formulate the most cost-efficient recipes.
• 02 / A flexible switch
The raw material and feed market is constantly evolving. BESTMIX® Recipe Management allows you to adapt quickly. In case of fluctuating raw material prices, changing logistic challenges or new regulations, our software will give you a quick insight into the appropriate alternatives. Moreover, this knowledge proves its value while advising your customers. They learn in detail how fluctuating animal and raw material prices affect their results and how they can anticipate this with your help. Your customer advisor quickly learns to know the specific expectations of the end users and feed them back to the formulator via BESTMIX® Recipe Management.
• 03 / The controlled creation of labels and specifications
After the creation or optimization of a product, BESTMIX® Recipe Management will automatically adapt the required legal and commercial documents. All labels, product specifications, feeding tables and safety datasheets will be immediately available, both inside and outside the company walls.
• 04 / A streamlined collaboration within a secure environment
BESTMIX® Recipe Management facilitates the internal collaboration between nutritionists, formulators, R&D, quality employees, purchasers, production employees and customer advisors. The inventive central platform also allows to safely exchange information in real time with external parties such as laboratories, consultancy companies and auditors.
• 05 / Save time
BESTMIX® Recipe Management accelerates the development time of new recipes, allowing you to introduce more quickly new or adapted products to the market. With a centralized database, both feed advisors and formulators cooperate during the creation of rations and complete feed, allowing you to avoid repetitive work.
• 06 / Future-oriented
BESTMIX® Software has developed BESTMIX® Recipe Management specifically for the nutrition industry. Thanks to continuous updates, based on the latest developments within the sector and the feedback from our customers, our software always follows the most recent market evolutions. Consequently, you will always be assured of a future-oriented formulation platform which seamlessly connects with the digital transition being developed within the nutritional world.
• 07 / Always compliant
Thanks to our integrated best practices, regular updates, and the possibility to integrate your own procedures, you can always work according to legal and company-specific rules. This way, BESTMIX® Recipe Management supports your company in complying with the rules; now and in the future.
• 08 / Justified purchasing decisions
Thanks to BESTMIX® Recipe Management, the purchase department always have detailed and up-to-date information. By means of 'What if?' scenarios, they can simulate the effect of certain raw materials on the composition, nutritional value, and price of the end product. Therefore, they can always make their purchasing decisions in line with the reality and trends on the worldwide and local raw material markets.
• 09 / A user-friendly and customizable interface
BESTMIX® Software knows its users. This has resulted in an extremely user-friendly interface with many options for setting your own preferences and needs.
Like most things, software is also constantly changing and updating. Could you tell us about the latest innovations in your software? Are there any special topics or features that you will present to users in the coming days or years, which are currently in progress?
At BESTMIX® Software we have a great team of over 30 people working hard every day to bring innovations to the market. We stay on top of all trends and follow up with customers and partners to improve every day. Some of the features we have been working on the last couple of months are:
• Ration calculation per individual cow: to allow feed advisors to give tailor-made advise to their customers. Animal performance figures are pushed to BESTMIX® Recipe Management online, so we can use these figures to calculate the optimal ration to be fed, per individual animal
• As mentioned earlier, a very important feature is the use of environmental parameters in the optimization feed or feeding programs, besides the normal least cost formulation
• Blend optimization – A new feature in our Multiblend option to allow you to optimize and define the perfect premix/preblend/half fabricate that will serve several main recipes.
• Target optimization – in the regular least cost formulation tools, constraints on nutrient values are entered via minima and maxima. Via target optimization this is no longer required since you only need to enter the required output, and BESTMIX® Recipe Management will try to get as close as possible to these target values.
• We recently also launched a new product to the market, BESTMIX® SpecTrack. BESTMIX® SpecTrack centralizes data of your suppliers on one single web platform. Our solution supports you in enforcing compliance and collecting information from suppliers. The ever-increasing demands of retailers, legislation, auditors, and management require a more structured and efficient approach.
As a manufacturer, you manage digitally structured information of your needs in the field of product composition, allergens, nutritional values, certificates, assessments, and more. Consequently, by using BESTMIX® SpecTrack, you always dispose of one version of the truth. Information is efficiently shared with product developers, quality assurance staff, production managers and other stakeholders.
BESTMIX® SpecTrack meets the demand for transparency, traceability, and quality assurance within the food, petfood and animal feed industry. Moreover, this platform integrates with your recipe formulation, which contributes to efficiency and flexibility in your organization
What do you think is an efficient and proper feed formulation? What should be paid attention to when choosing and using a software for this?
When looking for software in general I think some aspects are important:
• Technology used
• Customer service availability (phone, online, FAQ, …)
• References in the same industry
• Local presence of the vendor
• Knowledge level of the software vendor
• Innovations and update delivered by the vendor on the software
• Languages in which the software is available
• Protection of the data entered in the system
• Backup / disaster recovery in case something goes wrong
• Ultimately of course also the pricing will be an aspect to consider, although in my opinion not the most important one. More important is to have a close look at the ROI of the investment
• User experience, ease of use
• Is the software scalable, meaning if you grow as a company, is the software and hardware setup capable of following the same growth
• Flexible reporting capabilities
For feed formulation software more specific I think following aspects could be of importance:
• Security/authorization: who can access certain data
• Performance of certain workflows, how efficient can you manage recipes
• Integrated labeling solution
• Ability to formulate big amounts of recipes at the same time (several thousands in some cases) to be able to do the what if scenarios as mentioned higher in the doc
• Strong integration with other software (MES, quality systems, ERP, …)
• When applicable, combine ration calculation, feed optimization, premix formulation in one tool
• Advanced formulation techniques available:
– Work with enzymes
– Integer optimization
– Non-linear optimization
– ….
We are talking about many advantages of software. But can anyone use the software developed for feed formulation, etc.? Does it require special expertise to use them? Based on your own software solutions, can we also touch on the simple interface and ease of use?
I think anybody can work with feed formulation software. Of course, you will need the proper training and guidance to be able to complete your daily work. Depending on your role in the company you will need specific knowledge. Needless to say that if you do not have nutritional knowledge it will be hard to manage recipes in a correct way.
The software should be designed in such a way, that any user, with limited effort can truly experience al the benefits of our tools.
About Karel Vervaet
Karel got his master's degree in Bioscience Engineering at the Ghent University in 1997. At BESTMIX software, he has been active for many years as a senior consultant in feed formulation software and as leader of the BESTMIX® development team. In his current position as Sr. Product Specialist Nutrition he keeps close track of the IT developments within the nutrition industry and works in close collaboration with major players in feed and petfood production.
Given his experience as consultant for many international feed companies, Karel is in a perfect position to look at the role of BESTMIX® in feed manufacturing organizations and to its integration with other software.
Karel has a special interest in sustainability and in how to include the environmental impact of animal nutrition production in feed formulation software.