Animine, France-based global supplier of trace minerals for animal nutrition, presented "Correlative elemental imaging in poultry eggshells and bone" at FESTEM symposium in Madrid.
Animine scientific team in collaboration with Prof. D Schaumlöffel participated the 8th International Symposium of FESTEM (Federation of European Societies on Trace Elements and Minerals) entitled "Recent Advances in Trace Elements. From the Bench to the Bedside". The company presented its the latest research outcomes on elemental imaging in chicken eggshells and bone at the symposium held end of September in Madrid, Spain.
"As commonly known, some trace elements have a high added value for animal nutrition, especially those which are supplemented in the diet (Zn, Cu, Mn, Fe, Se, and I) to meet the physiological requirements for maintenance, growth, and production (meat, milk, eggs, offspring)," said the company representatives and added. "In laying hens, it has been shown that trace element (e.g., Mn, Cu, and Zn) supplementation promotes increased eggshell and bone strength and quality. However, the assimilation of Mn, Cu, and Zn within the eggshell and bone structure remains unclear. This is why the scientific team work focused on the objective to visualize and understand the location and sites of incorporation of Animine precision minerals into hen eggshells and tibia bones."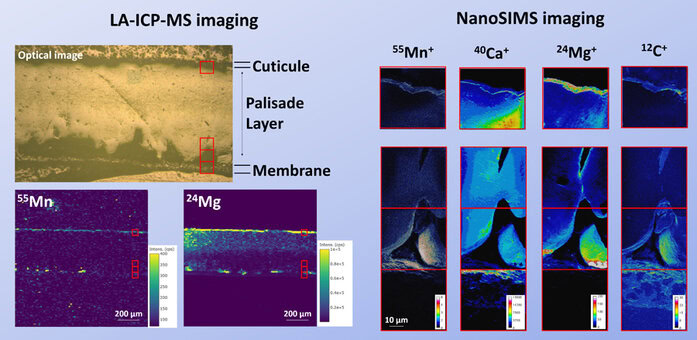 According to the company's statement, thanks to Anilab located in Pau (France), X-Ray tomography was used to allow 3D imaging of the eggshell and tibia morphology with micrometer resolution in order to determine the areas of interest for trace element localization. LA-ICPMS served for elemental imaging at similar resolution than X-ray tomography, while Nanoscale Secondary Ion Mass Spectrometer (NanoSIMS) with an RF plasma O- ion probe provided insights into the trace element distribution in selected areas at sub-micrometer resolution.
The company representatives said that these new tools are made available for project with partners. They allow to go deeper in the knowledge of trace elements assimilation and deposition into animal products or organs and thus permit to recommend the right source of precision minerals at the right dosage.