Alltech, providing solutions and products that contribute to the success of the global animal health industry, announced the publication of a new white paper by its research director, Dr. Richard Murphy. The white paper includes a comparison of selenium sources by form, source, and function.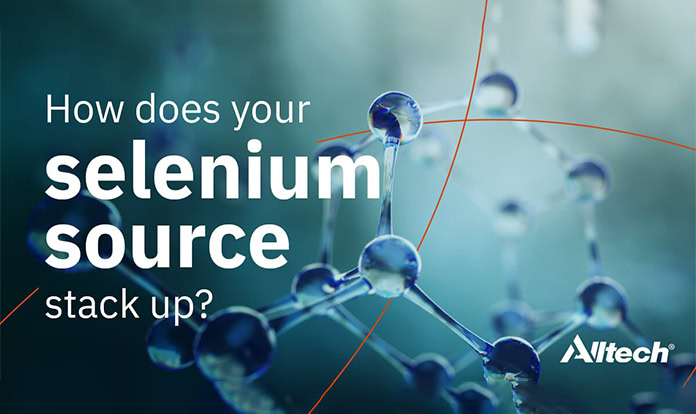 Alltech, backed by more than 40 years of scientific research, announced that a new white paper, entitled "Organic selenium: A comparison of form, source and function" prepared by Dr. Richard Murphy, director of research has been published. The new white paper focuses on the varying stabilities of the different selenium sources currently on the market. It follows up on Dr. Murphy's 2021 white paper release entitled "Organic trace minerals: Enhancing mineral bioavailability through chelation" which explored improved bioavailability with organic trace minerals (OTMs).
"Organic selenium has been found to be a more effective source (than inorganic selenium products), resulting in an increased number of live young per animal, the stimulation of immune function, overall improvements in animal health, and an enhanced shelf life for meat, milk, and eggs," said Dr. Murphy. "Peer-reviewed research has clearly shown that dietary intervention with organic selenium results in significantly enhanced production and health benefits for all species."
Adequate selenium levels are essential for basic processes like growth and reproduction, and selenium deficiencies are responsible for several specific degenerative diseases in livestock. There is a well-established association between selenium deficiencies and a wide range of practical and costly problems, including both male and female infertility, a decline in animals' overall thrift and well-being, disease resistance, and disorders related to thyroid hormone metabolism. The inclusion of selenium in animal nutrition has also been linked to several health and product quality benefits, which are dependent on selenium being supplied in the right form and at the correct dosage.
"The form in which the selenium is presented will play a crucial role in its bioavailability and efficacy," said Dr. Murphy. "Organic forms of selenium are the optimal nutritional source."
The numerous selenium sources available on the market today vary greatly in terms of their stability and shelf-life when included in premix and feed. A knowledge of these differences allows end users to make informed decisions as to the suitability of individual products for their production systems and livestock.
"Organic selenium yeast sources have displayed high levels of verified stability in premix, compound feed and after pelleting, albeit with further source-dependent differences noted between them," Dr. Murphy observed.
In terms of understanding the toxicity differences among various selenium sources, the white paper examines the biochemistry behind selenium and its potential to act negatively at a cellular level. Various selenium forms have clearly defined toxic attributes — but there were relatively few, if any, negative connotations associated with the use of the organic selenium yeast product being studied in this paper. In contrast, inorganic and chemically synthesized selenium sources have clearly defined toxic attributes, which are notably similar to their acute oral toxicities. Based on these results, not all selenium sources can be considered equal, as considerable care and attention are required when formulating and handling synthetic and inorganic sources.
A key attribute of an efficacious organic selenium source is its ability to not only improve animal health but also to enhance overall performance and, in doing so, increase profitability at the farm level. Additionally, organic selenium products that are well-established will have a large database of peer-reviewed data supporting their bio-efficacy.
"Selenium yeast offered in the form of Sel-Plex® is the most researched organic selenium source available and has been featured in more than 300 peer-reviewed performance studies to date," noted Dr. Murphy.